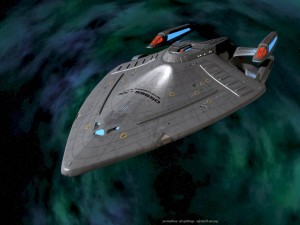 Star Trek Online is a sci-fi MMORPG based on the Star Trek Franchise that combines tactical ship combat with ground-based, avatar driven combat. It is most similar to Pirates of the Burning Sea in this respect. Players can customize their ships, explore the unknown, and even create their own unique alien race with a powerful character creation tool! For fans of the series and sci-fi MMOs in general, STO just might be the right choice.
Publisher: Cryptic
Playerbase: Low
Graphics: High Quality
Type: MMORPG
EXP Rate: Medium
PvP: Factions / Duels
Filesize: ~7 GB
Pros: +In depth character creation tool. +One of few sci-fi themed MMORPGs. +Unique mix of space ship and land based gameplay.
Cons: -Clumsy interface. -Extremely limited free trial. -Only three main archetypes. -Extremely repetitive gameplay. -Buggy gameplay.
Free Trial Restrictions: Unlimited tree trial, but players only have access to the game's tutorial and first mission. (Which can be completed in an hour or two)
Overview
Star Trek Online Overview
There are a great many different skills to choose from within each class in STO, but the three main character types are tactical, science, and engineering. You choose which you would like to be at character creation, and this choice affects mostly your ground-based mission abilities. There are a number of different ship types that can be piloted, and the player is not limited to any one ship simply because of their character type. In addition to this, the player can have a tactical, science, and engineering officer appointed to assist them on their ship, each of which infers a bonus ability and levels up on their own.
Additionally, Star Trek Online boasts two factions: the Klingons, and the Federation. This choice affects your missions, and your race selection. At the time of this review, the Klingon faction was mostly limited to PVP-centric activities, while the Federation had a much greater selection of PVE missions and activities. In the demo, the player can only choose to be federation, and is limited to the tutorial mission.
Star Trek Online Featured Video